What is Aki Matsuri (Fall Festival)?
The New Mexico Japanese-American Citizens League (NMJACL) has been hosting Aki Matsuri (trans.: fall festival) for over twenty years. The festival is the main annual event for NMJACL and serves as a venue to share Japanese and Japanese-American (JA) culture with all of New Mexico. Proceeds from the festival benefit NMJACL's ongoing efforts to document events and history related to Japanese-American internment in New Mexico and the southwest, as well as funds for construction of a cultural center.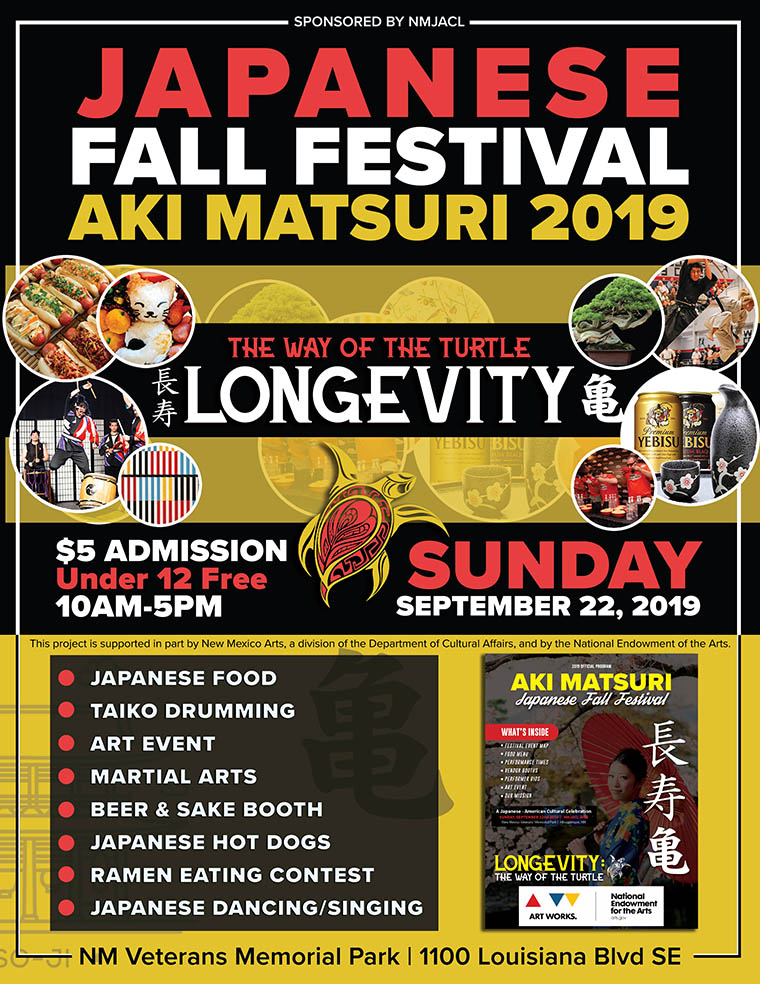 Our Story
The festival attracts guests and performers from around the state and beyond, showcasing traditional Japanese, dance, song, and musical performances, martial arts, arts and crafts, Japanese food, and more.
2019 Aki Matsuri at the Veterans Memorial Park
We'll return to the Veteran's Memorial Park this year for the 2019 AKI MATSURI FALL FESTIVAL on Sunday, September 22rd 2019.
AKI MATSURI APPLICATIONS
Whether you're looking to volunteer, perform or want to feature your local business, product or artwork, we've got an option for you.

Corporate Tent
20' x 20' tent
Tables and chairs will be reserved specifically for your "By Invitation Only" special guests.
Performance Stage
Time slots average 15-20 minutes
Performance/demonstration applications MUST BE RECEIVED BY AUGUST 6th, 2018
Vendor Booth
10' x 10' tent
Covered space with one 8-ft table and two folding chairs. Additional tables/chairs are made available on a fee basis.
Program Ad
Festival produces 1k programs for attendees
The program measures 8.5" x 11" in size with colored outer covers and black and white inner pages.
Interested in Volunteering...
NMJACL is always in need of helpful volunteers for our annual Japanese Fall Festival.  If you or your organization is interested in volunteering please fill out volunteer form and we'll get back to you shortly.