Welcome to our Virtual Aki Matsuri page. NMJACL is excited to offer an online virtual experience focused on highlighting the best parts of past Aki Matsuri festivals in Albuquerque, while connecting visitors to online experiences inline with the Aki Matsuri key components : Art, Music, Dance, Food, Culture, and History

We are happy to announce that AKI MATSURI 2021 will be an in-person event on Sunday September 26th, 2021 at the New Mexico Veterans' Memorial Park in Albuquerque, NM.
Purchase your online tickets today and skip the long ticket lines – Purchase your ticket HERE

WATCH ALBUQUERQUE POET LAUREATE MARY OISHI INTRODUCE THE 2020 VIRTUAL AKI MATSURI INSIDE THE JAPANESE GARDEN AT THE ABQ BIO PARK BELOW
Welcome to the NMJACL 2020 Virtual Aki Matsuri
Eating Sushi is a Delicious Japanese tradition
Learn from Japanese born Chef Shigeru Usuki about the art of sushi making and how to create sushi yourself.
The Art of Bonsai : Grow and Care for a Bonsai tree
A quick look at what the Albuquerque Bonsai Club is about and what they feature at the annual Japanese Festival
Japanese Taiko Drumming
See local groups perform
Enjoy performances by local Taiko groups. BK Taiko features both Taiko as well as Martial Arts performances
Origami Is More Than a Visual Artform. Learn How It Inspires Mindfulness! We have provided an origami demonstration for beginners to complete. Let the folding begin!

Aki Matsuri – 2018 /2019
Highlights
Click the images for a full view with our Lightbox feature
FOLK ART DANCE – by ALJ06
An up and coming newcomer to the Aki Matsuri stage is a small group, ALJ06, comprised of six vibrant young ladies who perform traditional folk art dances to popular Japanese- Pop songs and dances of today.
MARTIAL ARTS – by AKKA Karate
AKKA KARATE USA is a traditionally oriented school of kenpo. Kenpo is the oldest of arts to come to Japan from China and is based on learning self-defense techniques as a method of cultivating self-respect.
POP CULTURE – Gamer Made Cafe
Straight out of the Otaku's closet, we're here to entertain! Gamer Made Cafe is a brand new Maid Cafe experience fashioned after the classic Akihabara Maid Cafe but with a fair bit of modern and pop culture twists. We sing, we dance, and we play a ton of awesome games!
Confinement in the Land of Enchantment
| Documentary Film Project
Take a sneak peek at the Confinement in the Land of Enchantment documentary film and stay tuned for more info regarding our upcoming 2021 Japanese Film Festival.
Aki Matsuri – 2018 /2019
Photo Highlights
Click the images for a full view with our Lightbox feature
Aki Matsuri – Online Art Gallery
Local Japanese Artists
YELLOW BOWL
PROJECT| Freedom from Fear
SETSUKO WINCHESTER : My project may throw light on a discomforting part of American history but perhaps it can help gauge where we are in this ever-evolving experiment we call "America."
George has been practicing Japanese sumi-e painting since 1971 when he studied it with Michio Takayama in Taos.
Jimbo's Lullaby – Patrick Nagatani
Excerpt from youtube: My Mom transitioned on July 3, 2012… about an hour before midnight. This was one of the last pieces of music she heard. She was given the Buddhist rebirth name of Shaku Horaku – Patrick Nagatani was our featured artist during 2015 Art Benefit / Aki Matsuri.
Mable Orndoff-Plunkett does a live demonstration for the Virtual Aki Matsuri. Ikebana is the Japanese art of flower arrangement. It is also known as Kadō.
Ikebana International – Ch 41
The Ikenbana International Chapter 41 made a special presentation for the 2020 Virtual Aki Matsuri they wanted to share with everyone. Enjoy!
LIVING HISTORY – JACL PLAYERS
New Mexico's JACL Players have been touring Living History shows on the Japanese American experience throughout New Mexico since 2014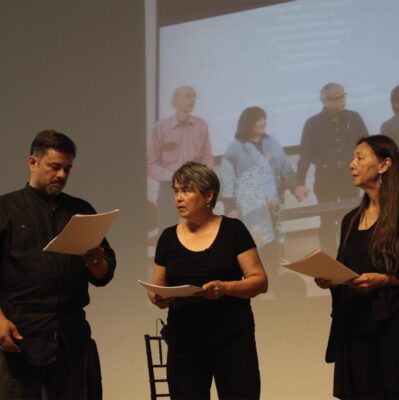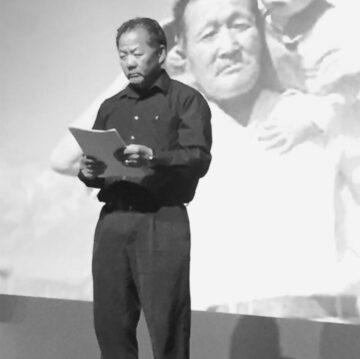 Bring Our History to Life
Nikki Nojima Louis leads, writes and directs her cast portraying delicate subjects regarding race, immigration, internment and redress.