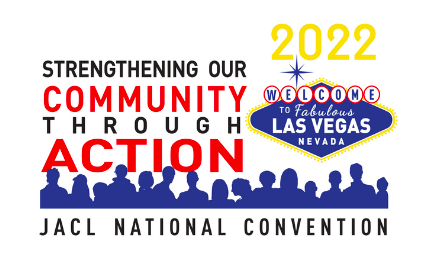 Join us August 3 to 7 in Las Vegas for
"Strengthening Our Community Through Action"!
Let's unite and reunite, in-person and virtually, to take action for our community!
After having to cancel the 2020 Convention due to COVID-19, the 2022 Convention's theme is "Strengthening Our Community Through Action", which also builds upon last year's theme of "Communities Forged Under Fire". This year's convention will take place at the same time and place as our partner organization, OCA-Asian Pacific American Advocates. We plan to meet in-person with digital content for attendees to tune in from anywhere!
As JACL is close to celebrating its 100th anniversary and OCA gets ready to celebrate its 50th, join us in the entertainment capital of the world for celebratory awards events, enlightening workshops, and lively reunions to toast our achievements and future goals!
Friendly reminders:
JACL looks forward to reconvening in-person for the first time in three years this coming August. To keep all participants as safe as possible, please note that all JACL Convention attendees are required to be up to date on their COVID-19 vaccine per the CDC's definition of being fully vaccinated effective July 20, 2022. In addition, attendees are required to social distance when possible and wear a mask at all times except when eating. Please see our COVID-19 Certification, Acknowledgement, and Liability Waiver for more details.
To vote during the National Council proceedings, your chapter needs to attend in-person or send a proxy in-person. We will NOT have electronic voting for National Council proceedings this year.
Registration closes on July 27, 2022. We will NOT be having on-site registration this year. 

What does registration include? 
In-Person Registration: Full access to convention events (Plenaries, National Council sessions, JACL and OCA workshops, both awards luncheons and Sayonara Gala), as well as full access to our digital platform which includes chatting and forums.
Virtual Registration: Access to our digital platform on mobile and desktop that includes limited streamed events (National Council sessions, some workshops, and more), engagement through chatting and Community Forum features, and more. Does NOT include electronic voting for National Council sessions or Q&A features. 

Bally's is now accepting hotel reservations. Through the website below you can book, modify, or cancel your hotel reservations: https://book.passkey.com/go/SBJAC2
If you have any questions, please write convention@jacl.org.

https://jacl.wufoo.com/forms/2022-jacl-national-convention-registration/#public