COMING IN AUGUST to
THE GUILD CINEMA
3405 CENTRAL AVE. NE
ALBUQUERQUE, NM 87106
tel: (505)255-1848
fax: (505)232-9385
www.guildcinema.com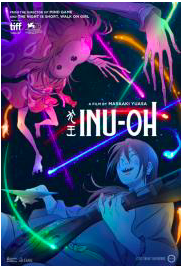 INU-OH – view a trailer
Aug 28 to Aug 31
Sunday thru Wednesday 8pm
Dir. Masaaki Yuasa – 2021 – 97m – Japan – In Japanese with English subtitles
From visionary director Masaaki Yuasa (MIND GAME. THE NIGHT IS SHORT WALK ON GIRL), hailed by IndieWire as "one of the most creatively unbridled minds in all of modern animation," comes a revisionist rock opera about a 14th-century superstar whose dance moves take Japan by storm.
Born to an esteemed family, Inu-oh is afflicted with an ancient curse that has left him on the margins of society. When he meets the blind musician Tomona, a young biwa priest haunted by his past, Inu-oh discovers a captivating ability to dance. The pair quickly become business partners and inseparable friends as crowds flock to their electric, larger-than-life concerts. But when those in power threaten to break up the band, Inu-oh and Tomona must dance and sing to uncover the truth behind their creative gifts.
Featuring character creation by Taiyo Matsumoto (Tekkonkinkreet, "Ping Pong the Animation") and awe-inspiring vocals by Avu-chan (Queen Bee) and Mirai Moriyama, INU-OH is a glam-rock ode to the power of music and a forceful statement on artistic freedom from one of animation's singular talents.
"UNFORGETTABLE … A jaw-dropping, head-banging freak-out." – IndieWire

"EPIC… BRILLIANTLY INTENSE AND UNHINGED … Every song is gigantic, every beat hits hard." – TheWrap

"ELECTRIFYING … The best rock concert movie in years." – IGN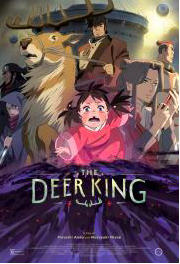 THE DEER KING – view a trailer
Aug 28 to Aug 31
Sunday thru Wednesday 3pm, 5:30
Dir. Masashi Ando & Masayuki Miyaji – 2021 – 113m – Japan – In Japanese with English Subtitles
In the aftermath of a brutal war, former soldier Van toils in a mine controlled by the ruling empire. One day, his solitary existence is upended when a pack of wild dogs carrying a deadly and incurable disease attack, leaving only Van and a young girl named Yuna as survivors. Finally free, the pair seek out a simple existence in the countryside but are pursued by nefarious forces. Intent on protecting Yuna at all costs, Van must uncover the true cause of the plague ravaging the kingdom—and its possible cure.
The Deer King is a sweeping fantasy epic that marks the directing debut of Masashi Ando, whose work on such landmark films as Spirited Away, Paprika, and Your Name. helped shape the world of modern animation.
"A gorgeously realized anime epic set in the lush forests of a centuries-old realm."- Carlos Aguilar, Los Angeles Times

"A powerful and moving anime adaptation… there's something heartening about its message that thoughtful kindness may just save us all." – Richard Whittaker, Austin Chronicle

"The film is tenderly wrought and brilliantly animated, with transitions that emphasize the communion between the land and the human body." – Concepción de León, New York Times